DIVE RATES:

Shore dive

$14 your gear / $26 our gear

Boat dive

$39 your gear / $49 our gear

6-boat dives

$210 your gear / $265 our gear

12-boat dives

$421 your gear / $529 our gear

DIVE PACKAGE

"Happy Bubbles"

"Photo by Dan Clark"

$1095 Beach Cabins and $1145 Over The Water includes 12 boat dives, 1 night dive, meals (Sunday dinner to Sunday breakfast), thatch beach cabin and an option of a kayak or all dive gear rental or upgrade to Advanced Diver (registration to PADI is $35).

EQUIPMENT RENTAL:

BC or regulator rental
$7.50 for each dive /$50 per week
Computer
$30 per week
Shorty wet suit
$5 day / $18 per week
Long suit
$10 day / $25 per week
Camera with strobe
$30 dive
Fins
$5 day / $18 per week
Mask and snorkel
$5 day / $18 per week
Dive light
$15 per dive

Tanks

$14

Your own tanks filled

$10

Weights

$2/dive
Belt
$2/dive

(Prices in US Dollars)
DIVE TRAINING
PADI DIVE RESORT TRAINING CENTER-ALL LEVELS
(prices in US Dollars)
Excellent diving on drop offs which start from 25 to 40 feet on east side and north end of Glovers Atoll, the east side is deep canyons and a drop off starting at 60 feet and descending to thousands of feet down into the Bartlett Trough. Spires from 10 feet to 100 feet on the southwest side of the reef and rich descending steps of 50 foot drops on the western side of Glovers Atoll. The reef is rich in Marine life and very beautiful from shore or only minutes from our dock, allowing for excellent diving and snorkeling.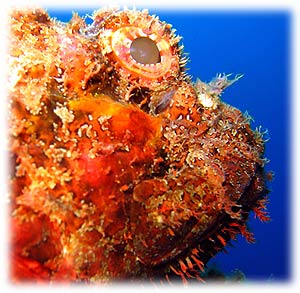 "Photo by Dan Clark"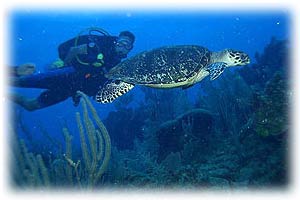 Please bring your certification card and logbook.
SKIN DIVER - Snorkeling lessons $15 from beach and $25 from boat per hour per person.

SNORKELERS ON DIVEBOAT - See, Reef Crest to Drop Off $15 each per 1 tank dive $30 2tank dive.

DISCOVER SCUBA DIVING - Learn some basics start diving by our dock get comfortable then dive on a reef. This course is for the non-diver that would like to do a dive with an instructor and it can be applied towards the Open Water Course or you can continue diving with a Dive master $75 per extra dives. 1/2-1 day $125 ($60 extra dive with instructor or dive master).

BUBBLE MAKER - A Discover Scuba for 8-10 year olds on a patch reef 6'(2m) $125 ($75 extra dive with instructor or dive master).

PADI REFRESHER OR SCUBA TUNE UP – A review for the rusty diver that may not have dove for a year or more. $95.

PADI SCUBA DIVER - This is a two day certification course. One shallow training dive by our dock and two Open Water dives. With this certification you must always dive with a Dive master. Lifetime license that can be up graded to Open Water within a year. max dept 40' (12m). $275+$35 registration (min age 10)

Glovers Atoll drop off & Reef Crest Patch in Lagoon

"Photo by Madeleine Lomont & Light Hawk"

OPEN WATER CERTIFICATION - Two training dives by the dock, and four Open Water Dives. 3-4 days $295+$30 registration. Max dept 60' (min age 10).

REFERRAL for OPEN WATER CERTIFICATION - At home with your local dive shop do all Open Water pool and classroom sessions. Do the four Open Water dives here to complete your certification Please bring your referral form. 2 days $250 our gear, $30 registration (min age 10).

ADVANCED OPEN WATER DIVER - Is a deep dive, a navigation dive and pick three elective dives. Drift, night, wreck, photo, fish identification, boat, multilevel computer, search and recovery, naturalist and peak performance buoyancy. 2 days $275 our gear $30 registration.

"Photo by Dan Clark"

EMERGENCY FIRST RESPONSE - First aid $100 and CPR $100 do both for $150 +$30 registration.

RESCUE - You must have done Medic First Aid and CPR within the last two years and be an Advanced Diver. Practice Rescue skills by the dock then conduct some simulated rescues. 3 days $350 + $30 registration.

"Photo by Madeleine Lomont"

DIVEMASTER - This is a leadership level allowing you to guide divers. Minimum is one week. (if you have read all the materials before training). We recommend doing an internship for a month, giving you hands on experience with divers and training courses. You must be a Rescue Diver, up to date on your CPR and first aid, 18 years at the time of completion, and have logged 60 dives (you can start with 20 dives) To meet the required amount of dives $15 per dive with your gear and $20 with our gear. $850 (Monthly accommodation rates are you pay for three weeks and the fourth week is free.)

SPECIALTIES - Night, Navigation, Deep, Photo, Fish Identification, Naturalist and Search & Recovery. Most Specialties are 2-3 dives each. Advanced and Adventure Dives may have already done some of the required dives. For Night you need a light, bring yours or rent, $15 per dive. For Photo bring your camera or rent one $30 dive. $35 registration per course. ASk for prices.

DIVERS ALERT NETWORK (DAN) - Is a non- profit 501 (c) (3) that does diving research and offers affordable diving insurance. Worldwide coverage. Call 1-800-446-2671 or www.DiversAlertNetwork.org

SSS RECOMPRESSION CHAMBER - In the unlikely event that you should need a chamber there is one in San Pedro Belize. Your U.S.$1 per tank diving contribution gives you direct access to the service.
---
KAYAKS
KAYAK RATES:
Drop-off & pick-up at Camp Site

Sit on top double

$150

Touring single

$145

Touring double

$225

(Prices in US Dollars. Subject to 12.5% Sales Tax).
All kayaks come with paddles and life vests. You can paddle from Northeast Caye North along the reef crest for up to 12 miles, eat your lunch on small sand bars on the reef crest, then paddle and snorkel back to the island down wind. Go paddle to the 700 patch reefs to snorkel or visit the 5 other islands situated from 1 to 6 miles distance.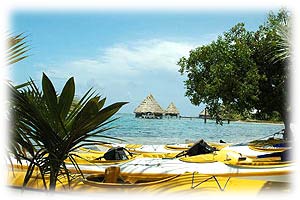 "Photo by Madeleine Lomont"
Kayaks are great for Fly Fishermen to visit Bonefish and Permit flats for catch and release or to go outside of the non-fishing zone to catch fish, conch and lobster. We rent camping gear and you can camp on the reef crest or other islands or take a one-way trip to be picked up by skiff on return. Sit on top Cobra Tandem kayaks for one or two kayakers are great for snorkeling or shallow diving (on patch reefs), visiting islands and fly- fishing from. They are stable, unsinkable and easy to climb back in after snorkeling. $150/week. Touring single with rudder, skirt and hatch seals,are great for long distance $145 /week. Doubles with rudder, skirt and hatch seals $225/week. Kayaks less than week, $20 per person for three hours.
---
CATAMARAN and SKIFFS WITH GUIDES
For snorkeling, fly-fishing, trolling, and exploring on Glover's.
Half Day
3hrs/ 3 mile radius from island
Whole Day
6hrs/ 6 miles

Skiffs 25'(8m) for 1 to 12 passengers:

Half Day
$125/plus fuel
Day trip
$250/plus fuel

Walkyrie 70'(21m) catamaran for 1-26 passengers:

Half Day
$400
Full Day
$800

Drop off and pick up later 1-6 passengers

Long Caye
$40
Middle Caye
$80
S.W. Caye
$120

Only a pick up

Long
$20
Middle
$40
S.W.
$60




"Photo by Madeleine Lomont"
---
| | |
| --- | --- |
| Fish bite all year! From shore, reef crest, kayaks, with boat and guide, or drop off and pick up. You can catch and release Bonefish, Jacks, Mutton Snappers, Yellowtails, Bonitos,Cubera Snappers, Barracudas, King Mackerel, Wahoo, Dolphin fish (not Flipper) Groupers and Permit (they go deep in winter months). Bring your rods and tackle. For Bones an 8 or 9 weight fly rod and Crazy Charlies (dark green to shiny) Minnie, Puffs, Streamers, crabs, yellow baits etc. Trolling rods 60lbs to 80lbs bring wire leader, Spoons, and different colored Reppalas. Spin rods up to 20 lbs. Rods for the week $50. Day $15. | |
| | |
---
BLUE HOLE LIGHTHOUSE REEF ATOLL
DAY TRIP:Leave at crack of dawn, dive the Blue Hole, then Halfmoon Wall and Long Caye Wall. Includes sandwiches, tanks, weights and belts. There are Blue Footed Booby birds nesting on 1/3 of the protected island.
Divers - $225. each + park fees $40+ each
Snorkelers -$145 + park fees $40 each
(before you dive the Blue Hole, you must do a check out dive on Glover's and a deep dive especially if you have never done a deep dive before)
minimum - 6

OVERNIGHT: Walkyrie 70ft(22m) Proa catamaran is $2900 (1-28 passengers).
Divers rent tanks and dive gear at Glovers. Leave Glover's at crack of dawn go to Blue Hole dive or snorkel then to Halfmoon Caye.
It is a beautiful sandy island with a well maintained campground run by the Belize Audubon Society. ere pay to camp and pay park fees then set up camp. There are Blue Footed Booby birds nesting on 1/3 of the protected island. Then go snorkel or dive some more..etc

"Photo by Dan Clark"
---
"Photo by Brent Barrus"

March,April,May,June, on and after the full moon up to 2weeks at Gladden Spit. Includes sandwiches tanks, weights and belts. Two tanks.
. Divers - $175. + park fees
. Snorkelers - $95. + park fees
. Whale Sharks are not guaranteed.
. (minimum - 6)
| | |
| --- | --- |
| "Photo by Warren Cabral" | "Photo by Brent Barrus" |
| "Photo by Brent Barrus" | "Photo by Brent Barrus" |